Sunday June 10th, 2001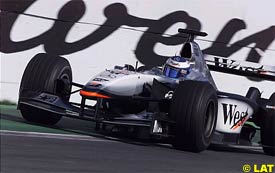 Finn Mika Hakkinen was delighted to battle with compatriot and Sauber newcomer Kimi Raikkonen at the Canadian Grand Prix and the two-time world champion commended the youngster's bravery.
The pair enjoyed some close racing, but Hakkinen was impressed by the 21-year-old's maturity despite his lack of experience in racing, and his record of just eight Grand Prix starts.
"It's great," enthused Hakkinen. "I really enjoyed seeing him going flat out, particularly at the start when we were side by side and he was pushing really hard. Obviously he's a young guy and he's quite brave, but he did a good job and when I was following him on the track, he was doing a really good job. Then when I overtook him in the hairpin it was a very fair game. I really enjoyed it."
But Hakkinen revealed that as he watched his compatriot battle hard with Brazilian Ricardo Zonta he saw the Jordan driver, who replaced the ill Heinz-Harald Frentzen at the team for the race, get a bit too close.
"It was really dangerous what happened to Ricardo and Kimi on the back straight coming towards the pits," said Hakkinen. "I'm not sure if Olivier (Panis) was causing traffic a little bit, that Kimi had to go slow in the hairpin and because of this Ricardo had the opportunity to get a tow on the long straight.
"Ricardo got a little bit too close and he just touched Kimi on the back and all the diffuser and everything - pieces were flying in the air. I could see Kimi's car going left-right, left-right on the back straight and I was thinking 'wow, if Ricardo continues pushing like that, he's going to go off.' I think both of them damaged their cars."
However, Hakkinen admitted that his own car was not quite as he would have liked it, and that as his corner entry suffered due to poor handling he could not put in the lap times he had been expecting.
"I was not 100 percent happy (with the car), to be honest," he said. "I just was not able to enter the corners at the speed that I wanted to go. I was losing too much time entering the corners and that was really compromising my lap time."
---