Sunday June 10th, 2001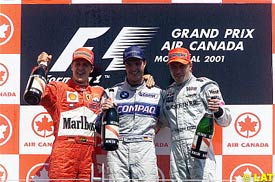 Mika Hakkinen raised an appreciative laugh on Sunday with his telling response to the Schumacher brothers' private battle for supremacy at the Canadian Grand Prix.
"Lucky there's not three (of them)," said the double world champion, sharing the podium with race winner Ralf and second-placed Michael, when asked how it felt to be beaten by two Schumachers rather than just one. "Then there would be a problem."
Montreal made history as the first time in more than 50 years of Formula One that two brothers had finished first and second. Given world champion Michael's exploits in the Ferrari and Ralf's growing maturity at resurgent Williams, it is unlikely to be the last.
"I guess our Mum and Dad will be very proud of us, first time a pair of brothers are first and second on the podium and I'm obviously delighted," said 32-year-old Michael, relaxed and smiling in the post race news conference. "I took six important points, he got the second win of his career. So a happy family day I would say."
Michael raised his fist, theatrically poised to hit his brother when Ralf was asked whether he had any suggestions on how Ferrari's championship leader might improve his driving. Michael started on pole and was in front of 25-year-old Ralf until his one pit stop on lap 46 of 69. Then the Williams driver took over and never looked back.
"When I was following him, I thought he was going to pull away and then I saw that the two of us were pulling away from the rest of the field and I thought OK, why isn't he going quicker?" said Ralf.
---