Sunday June 10th, 2001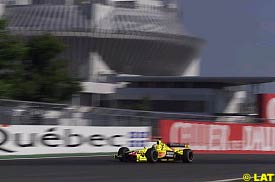 Jordan driver Ricardo Zonta was happy to return to racing after more than six months as a test driver, but the Brazilian could not hide his disappointment after missing the points at the Canadian Grand Prix.
Zonta, standing in for German Heinz-Harald Frentzen, completed a solid race in his return to racing and finished in a creditable seventh place after some brake problems hampered his progress forcing him to slow down, having to settle for a place outside the points.
"It felt great to compete in a Grand Prix race again, particularly as the racing was so good," said Zonta. "I was behind a Sauber and when I came very close to overtaking him, he braked unexpectedly and I hit him from behind which was dangerous.
"Luckily I was able to carry on with no real damage to the car. Half way though the race, I began to have problems with the brakes. After the pit stop I had difficulty braking late so had to put a lot of brake balance to the rear and just try to finish the race. The car was generally very well balanced and very fast, so it's a shame we didnít pick up any points today."
Teammate Jarno Trulli, who ran in fourth place during most of the race, was forced to retire with a hydraulic problem only six laps from the end.
---