Sunday June 10th, 2001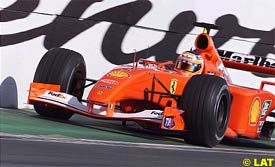 Ferrari are to investigate a problem with their electronic traction control system after it sent Brazilian Rubens Barrichello spinning during Sunday's Canadian Grand Prix.
"Right from the start, I had problems with the traction control," complained Barrichello, who had moved up to third place on lap three before he spun wildly at the exit to the hairpin on lap six and dropped to 14th.
"On lap three I had to switch it (the system) off as it was causing a misfire. It might have been a problem with a sensor but we will have to investigate. This is what caused me to spin."
Barrichello crashed out on lap 20, swerving to avoid the crashing Williams of Juan Pablo Montoya.
"When I came up behind Montoya I was not able to pass him because I no longer had traction control and the car had too much oversteer," said Barrichello.
"Then he went sideways and off the track and came back across it. I tried to avoid him but there was no room to get by and so I ended up in the wall."
Ferrari sporting director Jean Todt said the team would investigate Barrichello's problem.
---