Sunday June 10th, 2001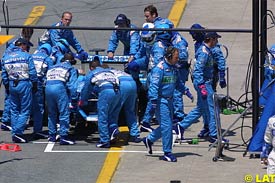 The Benetton team continued on Sunday with their troubled season after Giancarlo Fisichella and Jenson Button crashed against each other before they were both forced to retire from the Canadian Grand Prix.
Having scored only one point so far this season, the Renault-owned team struggled at the back of the grid during Saturday's qualifying, and things did not improve during the race, with Fisichella being the first driver to retire after an eventful first lap.
"On the first lap I was coming out of the hairpin and Bernoldi, who was ahead, appeared to have some kind of engine problem," said Fisichella. "He slowed as we accelerated and I couldn't avoid hitting him, which damaged my front wing.
"Then, as we were coming into the final corner, I touched Jenson's car, which broke my front right suspension and forced me out of the race. That was a great shame because I have always done very well at this track before."
Button was also forced to retire on lap 17, continuing with his nightmare season.
"My car started to creep a little at the start, despite the clutch being right at the biting point, and that led to me picking up a stop-go penalty for moving too soon," explained Button.
"On the way down to the hairpin I came alongside Giancarlo on the straight and he braked early. I then moved over because Bernoldi came across as well and then Giancarlo ran into the back of me, which unfortunately destroyed his race."
---