Tuesday June 12th, 2001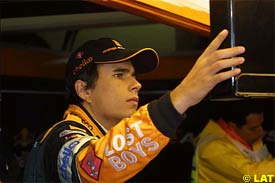 Brazilian Enrique Bernoldi has been a fan of McLaren since the days when Ayrton Senna won races and titles for the Formula One team. Unfortunately, the young Arrows driver's enthusiasm for his rivals is not likely to be reciprocated in a hurry.
In the space of one hot afternoon in Monte Carlo last month, the 22-year old rookie turned into the main talking point of the paddock. Bernoldi refused to succumb to the pressure of having McLaren's frustrated title contender David Coulthard breathing down his neck for half the race after the Scot was sent from pole to the back of the grid when his car stalled.
For lap after lap, Bernoldi held off the faster car in a duel that dominated the television race coverage and earned him a rebuke from McLaren boss Ron Dennis for unsportsmanlike behaviour and angry accusations from Coulthard. But Bernoldi remains proud of what he did.
"I think what I did was absolutely right, 100 percent. I have to race for my career and for my team," he told Reuters in an interview at the Canadian Grand Prix. "I did a good job and I take this as motivation for the future. I don't regret what I did."
In Canada on Sunday, Bernoldi failed to finish and barely rated a mention although Dennis had kept the pot boiling by repeating his comments at a meeting with reporters Saturday. Some reports at the time of Monaco had suggested Dennis and Mercedes motorsport boss Norbert Haug had threatened Bernoldi's career, something they deny and that the driver remains coy about.
Knocked out
The truth is Bernoldi, who cleared the air with Coulthard last week, has seen far greater threats to his career in the past and lived to tell the tale. Four years ago, visiting his hometown of Curitiba as his career was beginning to take off in Europe, disaster struck.
Just 18, and with his driving license only recently obtained, Bernoldi went out for dinner with his older cousin.
"He said to me 'So, I drive. I know the way better. You don't live here,"' recalled the Brazilian. "It was my car but I was not driving. And some guy just came on the red light and crashed into my door and hurt me quite a lot. I don't remember anything from that day and until some days after. I was, like, gone.
"A stupid accident that was not my fault - I was not even driving - almost stopped my career," said Bernoldi, who has yet to suffer a major accident on the track.
At the time of the crash he had ran away with the European Formula Renault title at the age of 17, with nine wins in 11 races, and was embarking on Formula Three. He qualified on the front row for his first race in that championship but his injury put paid to the season. When he eventually came back he struggled in Formula 3000.
"That slowed down my career a little bit," he said. "Maybe I would have had a better possibility in Formula One without it, and earlier, but I think I came at the right moment because now I am much more mature.
"I think this must be like destiny. It was my destiny to have a crash and to slow down. And then I came up again. I almost won the British Formula Three in the next year. I didn't because of my own mistake, I have to say."
Sauber test
While in Formula 3000, Bernoldi was Sauber's test driver but that failed to translate into a drive as the Swiss team opted for inexperienced Finn Kimi Raikkonen after allowing both drivers to test in a 'shoot-out' for the seat. Bernoldi remains unhappy about his treatment, saying that the dice were loaded against him.
"They have their own opinion and the right to have their own opinion," he said. "It was not by mistake that I was not there, it was some political reasons. I was just a small fish between two sharks."
Losing out to Raikkonen left Bernoldi, who has been backed throughout his career by Austrian energy drink Red Bull, out in the cold before his sudden move to Arrows. That team dispensed with the services of Spaniard Pedro de la Rosa, now at Jaguar, shortly before the start of the season and drafted in Bernoldi as partner for Dutchman Jos Verstappen.
As a result, many people saw the Brazilian as a driver selected more for his cash support than outright ability - something he acknowledges but rejects.
"People have their answer on the track," he said. "I have a teammate who is considered very fast, very experienced. And out of seven races I beat him four times already in my first year."
In qualifying that is true but Verstappen actually holds the upper hand in racing with six placings to Bernoldi's two and also one point to none for the Brazilian.
"In Monaco I did a race with the fastest guy behind me for more than an hour without making even a mistake. I think that's not being a pay driver," Bernoldi said. "Before maybe no-one here would say I deserve to be in Formula One and now maybe 80 percent say I deserve to be here."
---