Thursday June 14th, 2001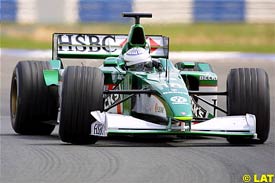 Narain Karthikeyan became the first Indian to drive a Formula One car on Thursday when he tested with Jaguar at Silverstone. Jaguar spokesman Nav Sidhu said Karthikeyan, who had a contractual entitlement to a Formula One test, had put in a handful of laps to get used to the car before lunch but was expected to end the day with 30 to 35 under his belt.
"He was just getting familiar with the workings of the car, particularly the steering wheel which is a very complicated piece of kit," explained Sidhu.
Steering wheels have become more complicated this season with the advent of electronic "launch control" used at the start, which on most cars entails pushing a sequence of buttons. Karthikeyan was first promised a test with Jaguar when he was with the Jaguar-owned Stewart Formula Three team last year before moving to Japan to race in Formula Nippon.
The test was postponed several times, most recently due to Karthikeyan's Japanese commitments.
---