Thursday June 14th, 2001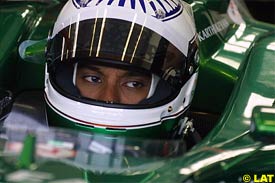 McLaren's test driver Alexander Wurz got back to work on Thursday after missing the first two days of testing at the Silverstone circuit, the Austrian setting the fastest time of the three-day session which ten Formula One teams carried out at the British track.
Wurz, who was forced to miss the first days of testing due to food poisoning, took over from Briton Darren Turner at the wheel of the Mercedes-powered MP4-16 and topped the timesheets with a best lap of 1:22.081, finishing more than half a second ahead of Mika Hakkinen, who helped McLaren dominate today's session.
Michael Schumacher and Rubens Barrichello continued with the programme for Ferrari, concentrating mainly on setting-up the F2001 to suit the track and tyre testing. Also, both drivers carried out some different start simulations. Schumacher, who went off the track once during the session, finished fourth right behind Barrichello.
"This test was very important in order to establish a base for settings for next month's race, given that the English teams have done more running here than us," said Barrichello.
"There is still work today, but we have a good starting point. However, we should consider that, come mid-July the track conditions could be different. We also worked on tyres and I very satisfied with what Bridgestone is doing."
Young Finn Kimi Raikkonen continued working for the Sauber team, the 21-year old setting the sixth fastest time of the day behind Jordan's Ricardo Zonta. Raikkonen again concentrated on set-up work of the electro-hydraulic differential and traction control system of his C20. The Swiss team, who also tested a new Bridgestone tyre compound, were happy with their progress.
"We spent this morning evaluating a new aerodynamic package and validating it against wind tunnel predictions, and were satisfied with the outcome," said Sauber's race engineer Remi Decorzent. "Unfortunately the morning session began late and was interrupted by red flags when other drivers had incidents on the track."
Arrows' Jos Verstappen was eighth fastest, the Dutchman and his teammate Enrique Bernoldi working on tyre evaluation and suspension set-up. Verstappen was pleased with his session.
"We had a very good day today," said Verstappen. "We got through the whole of our programme which I am pleased about and I completed 95 laps in total, so we got a lot of miles on the car. The car was very reliable today which is good as we could get a lot of set up work done for the race here in a month's time."
Canadian Grand Prix winner Ralf Schumacher worked alongside teammate Juan Pablo Montoya for the Williams team, the German setting the twelfth fastest time right in front of the Colombian.
"We have done some long runs today and have done a full race distance," said Ralf, "some minor problems have held us up but ultimately we have done everything we set out to do."
Narain Karthikeyan stepped out of the Jaguar garage after becoming the first Indian to drive a Formula One car in testing at Silverstone on Thursday and said he wants more Formula One experience.
Karthikeyan, who tested for the Jaguar team, said he and his management team are aiming to secure a "full-time drive" in Formula One for next season.
"It means a lot to me," said Karthikeyan, who was sixteenth fastest today after spinning off the track. "But I knew it was always going to come. For sure there will be more to come now. My management are talking to several teams and there is a 50/50 chance that I'll be in F1 next year."
Mark Webber and Giancarlo Fisichella were again working for the Benetton team, the Italian posting the slowest time of the session, more than four seconds slower than Wurz.
Today's times:
Pos  Driver        Team-Engine         Tyres  Time   
 1.  Wurz          McLaren-Mercedes    (B)    1:22.081
 2.  Hakkinen      McLaren-Mercedes    (B)    1:22.614
 3.  Barrichello   Ferrari             (B)    1:22.718
 4.  M.Schumacher  Ferrari             (B)    1:23.142
 5.  Zonta         Jordan-Honda        (B)    1:23.277
 6.  Raikkonen     Sauber-Petronas     (B)    1:23.435
 7.  Panis         BAR-Honda           (B)    1:23.811
 8.  Verstappen    Arrows-Asiatech     (B)    1:24.035
 9.  Trulli        Jordan-Honda        (B)    1:24.180
10.  Villeneuve    BAR-Honda           (B)    1:24.253
11.  de la Rosa    Jaguar-Cosworth     (M)    1:24.304
12.  R.Schumacher  Williams-BMW        (M)    1:24.386
13.  Montoya       Williams-BMW        (M)    1:24.431
14.  Alesi         Prost-Acer          (M)    1:25.179
15.  Bernoldi      Arrows-Asiatech     (B)    1:25.258
16.  Burti         Prost-Acer          (M)    1:25.432
17.  Karthikeyan   Jaguar-Cosworth     (M)    1:26.139
18.  Webber        Benetton-Renault    (M)    1:26.355
19.  Fisichella    Benetton-Renault    (M)    1:26.592

All Timing Unofficial

---