Saturday June 16th, 2001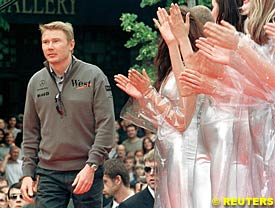 McLaren's Mika Hakkinen would not give way to teammate David Coulthard if he was in with a chance of winning a Grand Prix, the Finn said Saturday.
Asked what he would do if his team ordered him to pull over to let Coulthard through, Hakkinen said he would race to win. "I would go flat out myself and win it," he told a news conference during a McLaren promotional event in the Ukrainian capital.
"I have to win. That's what I'm paid for and that's what the team expects me to do. That's what I'm trying to do."
The Finn had at first joked that he had not been able to hear the question.
Coulthard on 40 points represents McLaren's best hope this year for the championship. Hakkinen is on eight. Ferrari's Michael Schumacher has 58 with nine rounds left.
Hakkinen, World Champion in 1998 and 1999, has been beset this season by technical problems. His only podium finish this year came at the Canadian Grand Prix six days ago.
---