Monday June 18th, 2001
By Alan Baldwin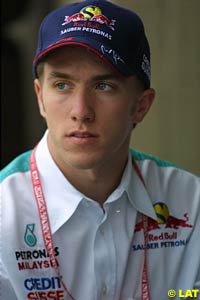 Some racing drivers crave fame, eagerly seeking out the limelight and living the celebrity lifestyle to the full. Nick Heidfeld is not one of them. But now, halfway through an impressive second season that has already seen him secure the first podium of his career, the quiet, 24-year-old Sauber driver from Moenchengladbach can no longer escape recognition.
And the German's stock could well rise further at the Nurburgring this weekend, when he hopes to erase the bitter memory of last year and the lowest ebb of his career to date. Yet he is determined to keep his feet on the ground.
"Sometimes people have funny ideas about Formula One drivers, especially in the past when they seemed to be a bit different," Heidfeld said at the recent Canadian Grand Prix. "That's why people today complain that there aren't enough characters in Formula One. But I don't really care about that because I'm the way I am and I think the worst thing is to try and change for other people."
Briton Eddie Irvine suggested last week that the new crop of drivers needed to get out and enjoy life more and Irvine's idea of a good night out is definitely different to Heidfeld's. "I nearly can go anywhere without too many people coming to me," Heidfeld said of his comparative anonymity as Germany's fourth and least-known contender. "It's normal that people don't know me so well in Germany but I don't really have a problem with that because I do the racing for the fun of it and not for being famous. I even like it more not to be known so much."
"But I feel that it's getting a bit worse now, especially after the race in Brazil," said Heidfeld. "I wanted to go out in my home city of Moenchengladbach and that was quite bad, all the people looking at me and some people asking me a lot of things. It's not such a big problem but people are watching you all the time and you just don't feel free and I went off quite early."
The situation was not made any easier when newspapers latched on to news of team boss Peter Sauber declaring a 'sex ban' - asking his drivers not to bring their girlfriends to the first three races in order to concentrate on their work. And Heidfeld's success on the track is also raising his profile race by race. Brazil saw him finish third and he has also taken points this season in Australia and Spain to head for the European Grand Prix in joint fifth place.
Yet he has every right to approach Sunday's race at the Nurburgring with a sense of deep foreboding. Heidfeld has been shunted out on the first or second lap for the last two races. In Canada it was Irvine who did the damage with an over-ambitious attempt to overtake. Last year, with the struggling Prost team, the young German was looking forward to shining on his home debut when his car was found to be two kilos underweight after qualifying and he was instantly excluded through no fault of his own.
"It was for me definitely the worst race of last year and maybe the worst experience I ever had in motor sport," recalled Heidfeld, who has a three-year contract with Sauber. "Basically I just wanted to go home.
"It was even worse because it was in Germany. It doesn't make a huge difference but I've always been quick in Germany and at the Nurburgring and I like the circuit. Everything had seemed to go quite well and then it was like a knock on your head, like 'Wake up, it's still going pretty bad'. It was like that a couple of times last year."
That was not even his first nightmare at the Nurburgring. Two years previously, in his first season in Formula 3000, Heidfeld was heading for the title after securing pole position in the last race of the championship when he was disqualified for using illegal fuel. He had to wait until 1999 to be crowned champion.
This year, despite requiring a rest after a heavy crash in practice in Canada, he is optimistic. "It should be fine, the car should suit the circuit pretty well and I'm really looking forward to that," he said.
Sauber, currently fourth in the constructors' championship, are the undoubted surprise package of the season with their Ferrari engines well bedded into a competitive chassis. Heidfeld, the team's older driver alongside Finnish novice Kimi Raikkonen, confessed he was as surprised as anybody.
"Obviously I went to Sauber hoping for a better season than last year but before the season nobody really knew what was going to happen," he said. "It was the same with Prost the year before, everybody said: 'Oh, now it's going to be the year when we have the big breakthrough' and everything looked fine and then it was a disaster."
Prost failed to score any points in 2000 and the experience can best be described as character-building, although it is one Heidfeld would rather have done without. "I hoped to score a couple of points this year because I didn't manage to do that last year," he said. "That worked out fine immediately in the first race and now after nearly half the season I am fifth in the world championship. For sure we didn't expect that at the beginning of the year."
---