Thursday June 21st, 2001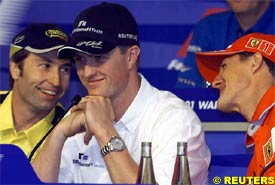 Heinz Harald Frentzen and Nick Heidfeld have both been declared fit for this weekend's European Grand Prix after suffering through illness last week.
Frentzen was forced to pull out of the Canadian Grand Prix after complaining of headaches and dizziness and was replaced by Jordan test-driver Ricardo Zonta.
But the German driver admitted he was feeling much better: "I feel fine. As you know I had concussion in Montreal in practice on Friday. Right after the crash, I didn't realise but in the evening I got more and more headaches.
"I had some tests with doctors and fortunately it was only concussion, but it wasn't concussion, and Sid (Watkins - medical delegate) said I should take a rest and watch the testing at Silverstone."
Sauber team boss Peter Sauber also stated that Heidfeld will be back for the team after suffering with headaches and dizziness at Canada following a crash.
"Nick has done all the necessary checks at the hospital and with the doctor and he is very prepared for the race," said Sauber, "and you will see him in practice on Friday."
---