Friday June 22nd, 2001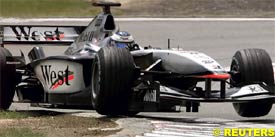 McLaren drivers Mika Hakkinen and David Coulthard continued to outpace their rivals as their silver cars topped the times in Friday's second practice session for the European Grand Prix.
Hakkinen, second to Coulthard in the morning session on Friday, swapped places with his teammate in the later session as the team continued their impressive preparations for the race at the Nurburgring.
Behind the McLarens the Schumacher brothers Ralf and Michael battled for third place with the former winning the mini-scrap in his Williams with Michael fourth in his Ferrari.
Elsewhere, Heinz-Harald Frentzen spun his Jordan on the final corner early in the session and, waving to the crowd, headed off for the check-up which will confirm his participation in the race.
Michael Schumacher was held up by one of the Jaguars and gesticulated his dissatisfaction, but continued to push hard in a vain effort to catch the McLarens ahead.
The German had several lock-ups and slight offs as he explored the extremities of the circuit, but late in the session Jacques Villeneuve lost it altogether as he tried too hard in turn two and slid off the circuit to end his day in the gravel.
Pos  Driver        Team                    Times                 
 1.  Hakkinen      Mclaren Mercedes   (B)  1:16.408  214.658 km/h
 2.  Coulthard     Mclaren Mercedes   (B)  1:16.579    +    0.171
 3.  R.Schumacher  Williams BMW       (M)  1:17.355    +    0.947
 4.  M.Schumacher  Ferrari            (B)  1:17.507    +    1.099
 5.  Barrichello   Ferrari            (B)  1:17.665    +    1.257
 6.  Montoya       Williams BMW       (M)  1:17.737    +    1.329
 7.  Trulli        Jordan Honda       (B)  1:18.133    +    1.725
 8.  Heidfeld      Sauber Petronas    (B)  1:18.196    +    1.788
 9.  Alesi         Prost Acer         (M)  1:18.352    +    1.944
10.  Panis         BAR Honda          (B)  1:18.410    +    2.002
11.  Raikkonen     Sauber Petronas    (B)  1:18.413    +    2.005
12.  Villeneuve    BAR Honda          (B)  1:18.434    +    2.026
13.  de la Rosa    Jaguar Cosworth    (M)  1:18.473    +    2.065
14.  Fisichella    Benetton Renault   (M)  1:19.339    +    2.931
15.  Irvine        Jaguar Cosworth    (M)  1:19.503    +    3.095
16.  Verstappen    Arrows Asiatech    (B)  1:19.640    +    3.232
17.  Bernoldi      Arrows Asiatech    (B)  1:19.822    +    3.414
18.  Button        Benetton Renault   (M)  1:19.978    +    3.570
19.  Frentzen      Jordan Honda       (B)  1:19.988    +    3.580
20.  Burti         Prost Acer         (M)  1:20.094    +    3.686
21.  Alonso        Minardi European   (M)  1:20.183    +    3.775
22.  Marques       Minardi European   (M)  1:21.129    +    4.721

All Timing Unofficial

---