Friday June 22nd, 2001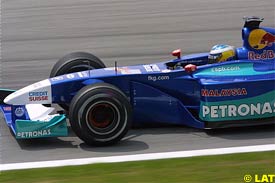 Nick Heidfeld was happy to be behind the wheel of his Sauber after being forced to rest following his accident with Eddie Irvine at the Canadian Grand Prix.
Having withdrawn from testing at Silverstone feeling unwell due to the heavy impact in Montreal two weeks ago, the German admitted he was feeling fine after today's practice session for the European Grand Prix, where he set a promising eight fastest time despite not being happy with his C20's handling
"It's good to be back in the car after my problems following the shunt in Montreal, and I'm feeling fine again," said Heidfeld. "We had a good day, but some changes that we made to the car didn't have quite the effect I was hoping for. It felt nervous, which made it difficult to drive."
Teammate Kimi Raikkonen, visiting the Nurburgring circuit for the first time in his career, was also satisfied with his performance after ending the session in eleventh place, the young Finn unable to get the best out of his Bridgestone tyres.
Raikkonen said: "I had some traffic on my quick lap and didn't really get the best out of my tyres, but otherwise things were okay for me today."
---