Friday June 22nd, 2001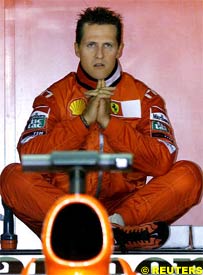 Championship leader Michael Schumacher remained cool after today's free practice session for the European Grand Prix despite finishing more than a second behind McLaren's Mika Hakkinen, and the German expects to repeat his Canadian performance, where he scored pole position.
Schumacher, leading the championship by 18 points over David Coulthard, was only fourth quickest on Friday but the Ferrari driver was optimistic to score his seventh pole position of the season and said today's pace was unimportant.
"I am not worried about the gap to the quickest car today, as I feel the situation here is similar to Canada, where we were not quickest on the first day, but on the front in qualifying," Schumacher said.
"Itís always good to race at your home Grand Prix and everything has gone to plan today, so I expect we can be up at the front tomorrow. I am quite confident, but we still have some more work to do to find the right set-up but it wonít involve any major changes."
Brazilian Rubens Barrichello was not happy with his car today after posting the fifth quickest time behind his teammate. Barrichello suffered a problem with the throttle and was not satisfied with his car's brakes, but he was looking forward to tomorrow's qualifying.
"It was not a particularly exciting day, although we saw quite a few spins caused by the wind and the dirty track," said Barrichello. "Circuit conditions here are very different to those we encounter at other tracks. I had a problem with the throttle pedal halfway through the second hour and I am not entirely happy with the performance of the brakes on my car. Apart from that, I am reasonably confident about our performance level."
---