Friday June 22nd, 2001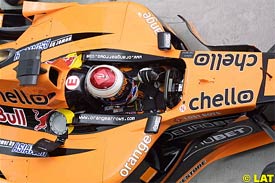 The Arrows team endured a dismal practice session on Friday with Dutchman Jos Verstappen posting the 16th quickest time just ahead of Brazilian teammate Enrique Bernoldi.
Verstappen, who was one of the many drivers to run off the track at the Nurburgring during today's practice, saw his progress hampered by a problem with his car's power steering during the morning session, losing a lot of valuable track time.
"We had a very hard day today," admitted Verstappen. "We didn't get much done in the first hour of practice as the power steering was playing games. This meant we had to change a lot on the car to run again so we also lost the first quarter of the second session.
"We did a lot of short runs, adjusting the car to the circuit but to be honest we haven't really learnt a lot today."
Despite finishing behind his teammate, Bernoldi was much happier with his day's work after preparing his Asiatech-powered A22 for Saturday's qualifying.
"We made good progress today doing a lot of laps and slowly developing the car," said Bernoldi. "We've made our tyre choice and generally worked on race and qualifying set-up. The car felt better on each run so I'm pleased with the work we've done today."
---