Friday June 22nd, 2001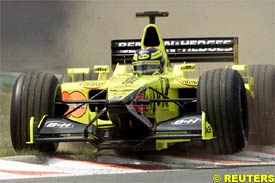 Heinz-Harald Frentzen was the subject of much attention in today's practice session for the European Grand Prix, taking to the track for the first time since the eve of the Canadian Grand Prix which he missed after feeling unwell.
The German Jordan driver, who has been suffering from concussion after crashes in Monaco and on the first day of practice in Montreal, took part in both Friday's sessions and the team said he had been cleared to continue racing. Frentzen spun off during the afternoon session and stopped, managing only the 19th fastest time.
Despite his disappointing performance and a lot of work to do before Saturday's qualifying session, the German driver admitted he was feeling fine.
"We got through some work this morning," said Frentzen. "Then, unfortunately, I spun off and couldn't continue. We were making some progress but, obviously, I have a lot of work to do. Apart from the obvious disappointment, I feel fine otherwise with no ill-effects after the problems I had in Canada."
Teammate Jarno Trulli continued with his good form, the Italian being seventh quickest after a trouble-free day of work. However, as Frentzen, Trulli claimed there was still some work to do in order to find the right set-up for his Jordan.
"A routine first day," said Trulli. "We were working on the set-up for the race, trying to balance the car as much as possible. We still have quite a lot of work to do for tomorrow. This morning, the car was not far away from the right set-up.
"We still need to improve it but we haven't really found a new direction to follow. We'll sit down now, check the data and see what we can find that might help for tomorrow."
---