Friday June 22nd, 2001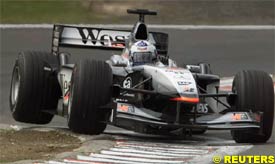 Last week's testing session at the Silverstone circuit paid off for McLaren's Mika Hakkinen as he placed himself on top of the timesheets in today's practice session for the European Grand Prix at the Nurburgring.
The Finn driver, enduring a very poor season so far with only eight points in as many races, set a blistering pace on Friday to finish ahead of his teammate David Coulthard and more than a second clear of championship leader Michael Schumacher.
Hakkinen was happy with his work and admitted he benefitted from the improvements made at the Silverstone testing session last week.
"I'm very pleased with our performance today and it's good to be quick," Hakkinen said. "Everything we tested at Silverstone last week worked well. Today we worked on different configurations and tyres and I'm confident for the weekend."
Coulthard, who was quickest in the morning session, was also pleased with his performance but the Scot driver played down the importance of today's times.
"A usual Friday where you can't put too much into the times as today is only part of the weekend," said Coulthard. "We worked with our programme to get the most out of the car.
"I have a bit of oversteer at the chicane and into the last corner which gives some problems finishing the lap, but overall I'm pleased."
---