Friday June 22nd, 2001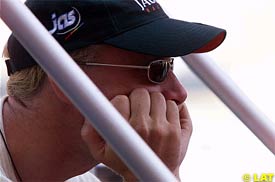 Irishman Eddie Irvine suffered all sorts of problems that hampered his progress in today's practice for the European Grand Prix.
The Jaguar driver was unable to even set a time during the morning session after his car suffered a fuel pump failure on his first lap and struggled for grip in the afternoon to finish the day in a poor 15th spot, two places behind Spanish teammate Pedro de la Rosa.
"We just don't have any grip," said Irvine. "Normally you need good front end grip here. We've come here and we need rear end. Everything has changed around this year with Michelin. It's a totally different animal. We got some running at the end, so we got a reasonable amount done."
Irvine, who missed last week's testing at Silverstone complaining of neck pains after his accident in Canada, is hoping for a hotter Saturday in order to improve his car's grip.
"Let's hope so," he added."But it's difficult to say. We don't know what's going to happen. It might get hotter and we still might not be quick, so who knows."
---