Friday June 22nd, 2001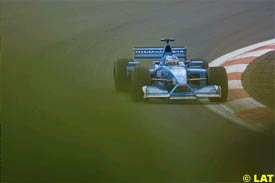 The Benetton team showed an improved form in Friday's practice for the European Grand Prix at the Nurburgring.
Giancarlo Fisichella, who has scored the only point for the Renault-owned outfit so far this season, posted the 14th quickest time of the day, an encouraging result for the struggling team ahead of Saturday's qualifying.
The Italian, who was affected by a gearbox glitch in the morning, admitted the B201 felt better than in Canada two weeks ago.
"I was a bit unlucky this morning because a gearbox problem cost me the last part of the first session.," explained Fisichella. "In the afternoon things were reasonable. If we can qualify 14th tomorrow it wouldn't be too bad.
"The car feels a bit better than it did in Canada, but we could do with better weather to help us generate a bit more tyre temperature."
Briton Jenson Button was also able to move up the field by setting the 18th fastest time, but the young driver continued to be outpaced by his teammate claiming there was still work to do before he is comfortable when riding the Nurburgring kerbs.
"We didn't go out early in the first part of the session because the track was very dirty," said Button. "The chassis had a bit of understeer to begin with, so we worked hard to get that fixed. It's vital to make the car ride the kerbs properly here, but we haven't quite got on top of that yet. We have a few things to try to make it ride the bumps better tomorrow."
---