Friday June 22nd, 2001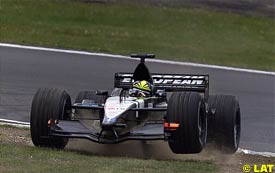 The Minardi team endured a "profitable" first day of practice at the European Grand Prix, where Spaniard Fernando Alonso and Brazilian Tarso Marques occupied the bottom of the timesheets.
"It turned out to be a profitable day as we managed to work through our programme, which was focused particularly on trying one or two new things on the car," Alonso explained after posting the 21st fastest time, hoping for better things tomorrow.
"Our interest was not in setting quick lap times, but in testing these possible technical solutions," he added. "We have obtained a good result from today's free practice and will obviously try to improve further tomorrow."
Teammate Marques, one of the many drivers to go off track today, was unable to leave the pits in the first session due to an electrical problem on his car and ended the day nearly a second behind the young Alonso.
"The second session turned out to be decidedly better, although I came out of the pits a bit late," said Marques. "During the afternoon session, we made steady improvement, which was pleasing. The balance of the car is not yet ideal, but I believe we are going in the right direction."
---