Friday June 22nd, 2001
By Patrick Vignal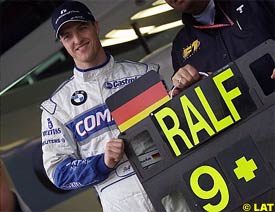 Ralf Schumacher has extended his contract with Williams until the end of the 2004 season, the Formula One team said on Friday. The 25-year old German joined Williams from Jordan in 1999. He has won his first two races this year, most recently at the Canadian Grand Prix in Montreal two weeks ago. His previous contract ran until the end of next season.
"I am very happy that we have reached an agreement to extend our relationship until 2004," he said. "I am looking forward to the continuation of our successful partnership with Williams BMW and believe we will meet our targets together."
Team owner Frank Williams said the move to extend the contract was a "very sound decision by the team which we are confident will be proven to be correct time and time again in the future".
The younger of the Schumacher brothers scored his first win at Imola - Williams's first victory since 1997 - before beating the Ferrari of his world champion brother Michael into second place in Montreal. He is fourth in the championship two points behind Ferrari's Brazilian Rubens Barrichello.
Michael has recently extended his contract with Ferrari until 2004. Another battle of the brothers is expected at the European Grand Prix on Sunday at the Nurburgring. Ralf had become a target for several top teams and his manager, Willi Weber, has said he had received several offers, including a lucrative one from Ferrari.
"We have been talking to other teams but Williams always had the priority," Ralf Schumacher said on Friday.
Obvious Decision
"It's a good team and I believe we can fight for the world title next year," he added. "It was a very simple, obvious decision to make."
No financial details were given, although speculation in the German media has said he would almost double his salary to 30 million marks ($13.09 million) a year.
"We are very serious about winning the championship next year," Williams added. "It was obvious when he came in 1999 that he was a very accomplished driver. As I said then, if he had been in a Ferrari or a McLaren, he would already have won races."
Ralf might have won the 1998 Belgian Grand Prix but obeyed Jordan team orders to finish second behind Briton Damon Hill.
"Ralf is now very experienced," Williams said. "He knows our equipment very well, his head is full of data, he remembers things."
Williams also have Briton Jenson Button signed up for the future after a debut season with the team last year. He is currently on loan to Benetton for two years. Asked where Schumacher's agreement left his teammate, Colombian Juan Pablo Montoya, Williams said: "I can't make any comment about our second driver before 2003."
Montoya joined this season from North American CART after winning that title in 1999. The former Williams test driver has so far finished only one of this season's eight races.
However, he has twice led races, qualified on the front row in one and finished second in Spain.
---