Friday June 22nd, 2001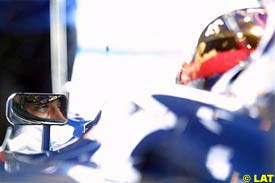 After two consecutive point-scoring finishes in Monaco and Canada, Frenchman Jean Alesi continued to show his impressive form at the European Grand Prix on Friday, where he set an encouraging ninth fastest time at the wheel of the Prost.
The veteran Frenchman, the only driver who has finished the eight races completed so far this season, displayed another brilliant performance at the Nurburgring and hoped to maintain the momentum during the next two days of the Grand Prix.
"We spent the first part of today's practice working on race set-up, running on high fuel levels," Alesi said. "This gave a lot of positive data. Then this afternoon we concentrated on tyre choices for the qualifying session and the race. I am confident the work done and the information gathered will allow us to have a competitive car this weekend."
Brazilian Luciano Burti was not as lucky as Alesi, the rookie driver's progress hampered by an engine failure in the morning session. However, despite finishing the day in a low 20th place, Burti was confident of a better result on Saturday.
"Unfortunately I had an engine problem which put a premature end to my first practice day at the Nurburgring," said Burti. "The pity is that I did not have enough time to test the balance of the car on new tyres.
"However we'll have plenty of time tomorrow morning to recover this little delay, and I am confident we can do a good job because we have already a very good basis."
---