Friday June 22nd, 2001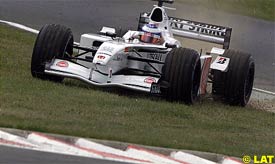 Frenchman Olivier Panis hopes a little more work with his British American Racing car will allow him to fight for the points at Sunday's European Grand Prix, where he will celebrate his 100th Formula One start.
Panis was tenth fastest in today's practice session, again outperforming his world champion teammate Jacques Villeneuve, and the veteran driver was happy with his work and looking forward to a good race on Sunday.
"We worked very well today," Panis said. "I'm positive about the car, but we need a little more work to find the best set-up and to ensure a good performance in the race. This is my 100th GP and I'm very happy about that.
"I feel that I've had a good career so far and, with BAR, I have the car now to get good results and opportunities. I look forward to another 100, maybe."
Villeneuve was also pleased with his work despite ending two places behind Panis in twelfth spot, the Canadian working with a new aerodynamic package on his BAR which seemed to have a positive effect on the handling.
"I'm quite happy with the way things went for the team today," admitted Villeneuve. "The new aero package seems to work well so I'm excited for the rest of the weekend.
"I got a bit sideways this afternoon, then caught it, but I need to have a look at what caused me to spin, as after that everything seemed fine. We're not doing badly for a Friday and should be OK for qualifying tomorrow."
---