Friday June 22nd, 2001
By Timothy Collings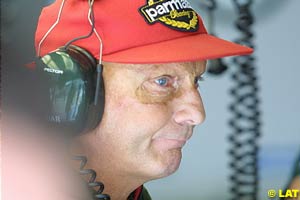 Twenty-five years on, Niki Lauda said on Friday that he had no memories and no regrets about his life-threatening and life-defining accident during the 1976 German Grand Prix.
But, he admitted, he had learned many lessons. He no longer takes risks, for example, he said. He ensures he drives carefully and inspects the electrical equipment in his bathroom.
"After the accident I thought about a lot of things and I realised how many dangers there were in our lives," he said. "So, I decided I am not going to drive drunk into a tree, I am not going to kill myself with a hairdryer in the bath and, for sure, I am not going to get out of the shower with wet feet and slip and break my back on the floor."
Lauda's famous escape, when he was pulled alive from the blazing wreck of his Ferrari car by fellow racing driver Guy Edwards, stunned the world. In his heyday he was the finest racing driver on earth, winner of three World Championship titles and the respect of all his rivals. But in one accident, he found his face and his life were altered beyond repair.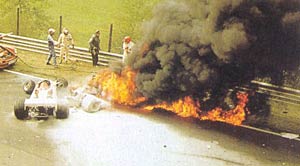 "Of course I would prefer to be racing today," he said. "If I was, I know I would have kept my ears and I would have earned much more money."
The flame-shrouded accident from which he was saved left Lauda with terrible burns. As a result, he is more identifiable now in a modern Formula One paddock by his red baseball cap, pulled down to shadow his scarred head, than he ever was in his prime.
"I don't remember anything about it and I don't have any regrets at all about it," he said. "I have not had things to worry about. No nightmares. Nothing. I know it happened and it affected me so much. But I didn't really think about it much until a long time afterwards when I saw the accident on television and I thought 'that's a big one, that's a serious accident for that guy....and it was me!'
"I think it helped me that I worked it out of my system straightaway," he added. "I was racing again just five weeks later. I raced until I felt I was just the same as I was before the accident. I still enjoyed it. So I had no bad feelings. In life you just have to get on with it. You can't do anything else. It's no good stopping because of dangers but you have to recognise them."
Lauda said his relationship with Edwards was changed from the day of his rescue. The pair now work together in Formula One and in the same team. Lauda plays an executive role in the senior management of the Jaguar Formula One team and Edwards is a sponsorship consultant.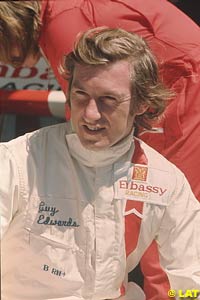 "It made us close, it was something that happened that you don't forget about - when you nearly lose you life in something like that you don't just forget it," he said. "But it is not a bad memory for me. So I am not going to be killed doing something stupid now."
Blunt, honest and direct, Lauda admitted that he wished he raced today and not in the 1970s for only one reason - the money. "If I was driving today I would earn a lot more. Then, in 1976, I earned four million dollars but if I drove now I would earn 50 million dollars and take no risks by comparison. In '76, I did a lap of the old ring in six minutes and 58 seconds, driving through trees and mountains with no proper guardrails.
"You just cannot compare what it was like then with now. So, of course, I would have preferred to drive today rather than the old days. I would have kept my ears and I would have earned more money.
"Today the challenge to be fast is still the same but you can make mistakes. If we made the slightest mistake, we could be dead. But not now...They are not hurt, normally, and they can just carry on racing."
---