Saturday June 23rd, 2001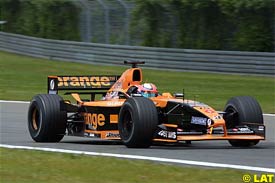 Arrows drivers Enrique Bernoldi and Jos Verstappen were disappointed after one their worst performances of the 2001 season in qualifying for the European Grand Prix on Saturday.
Both drivers struggled with their Asiatech-powered A22s, complaining about the lack of grip at the Nurburgring circuit due to the low temperatures at the German track.
Brazilian Bernoldi was able too edge Verstappen to finish in a poor 18th position and admitted he was expecting better things after practice.
"Well the qualifying session was okay for me, but only okay," said Bernoldi. "I'm a little disappointed as this morning we were looking a lot more promising but as soon as the temperatures went up we lost a lot of grip and performance. We expected to be higher up than this."
Dutchman Verstappen, who has scored the only point for the Leafield-based outfit this season, was only 19th fastest, the veteran driver also complaining about the lack of grip.
"I'm very disappointed," said Verstappen. "We lost a lot of track time yesterday but thought we had made good progress this morning. This wasn't the case as we are actually slower than this morning as we just couldn't find the grip. As well as that we were slower on the straights compared to this morning. We have a lot of work to do."
---