Saturday June 23rd, 2001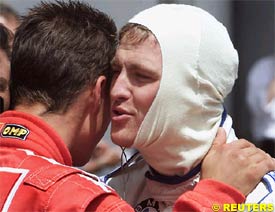 After securing his seventh pole position of the 2001 season out of nine races, world champion Michael Schumacher admitted he is not expecting a repeat of the Canadian Grand Prix, where he also scored pole ahead of brother Ralf but was clearly beaten in the race.
Schumacher, leading the championship by 18 points, also won the battle for pole position in Montreal two weeks ago to start the race ahead of his Williams rival Ralf, but the younger Schumacher was the class of the field and scored his second win of the season.
Schumacher will need to end a 'Nurburgring jinx' to win Sunday's European Grand Prix from pole position. Since the new circuit reopened in 1984 on the fringes of the awesome old Nordschleife track and returned to the calendar permanently since 1995, no driver has won from pole.
However, Michael is confident he will be able to keep his brother at bay as he claimed the Bridgestone tyres are better than in Canada.
"I do not expect to see a repeat of Canada tomorrow, as our tyres are very good and consistent here," said Schumacher. "I think we have the better tyre for the weekend, but we will have to see what happens.
"I am not ruling out McLaren, because we have seen them struggle in qualifying before and then they are strong in the race. We developed the car well in the morning and during qualifying we made a further set-up change in between the runs and that made me quicker."
Teammate Rubens Barrichello was fourth fastest ahead of both the McLarens after what he claimed was not an easy qualifying session. The Brazilian driver was slowed down after experiencing some problems with his car's power steering early in the session and was then unable to improve on his final run due to the yellow flags on track.
"Things did not go too smoothly in this qualifying session," Barrichello said. "For my third run, I stuck with my race car and I did actually manage to improve my time.
"However, on my last lap, the yellow flags came out and that stopped me from improving my grid position. At least starting ahead of our main rivals on the grid is a good thing for the race."
---