Saturday June 23rd, 2001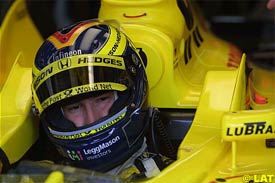 German Heinz-Harald was happy after qualifying in eighth position for tomorrow's European Grand Prix in front of his home crowd.
Frentzen was forced to withdraw from the Canadian Grand Prix two weeks ago complaining of dizziness following a heavy crash at the Monaco Grand Prix and he was returning to racing at the Nurburgring track.
Following a disappointing practice on Friday, the Jordan driver was pleased with a place in the fourth row of the grid and was determined to fight for the points of Sunday.
"Eighth on the grid is a good result for me, coming back after missing the race in Canada and having the problems I had during practice yesterday," said Frentzen. "It's good to be back on the pace and back in racing, qualifying in the top eight. I think we can do well here. More than anything, though, we want to finish ­and finish in the points."
Jarno Trulli was once again the fastest of the two Jordans setting, as he predicted this morning, the seventh fastest time of the day. The Italian claimed he could have gone faster if not for the last minute yellow flags and said he expects a difficult race tomorrow.
"After this morning's practice I predicted we would be seventh and eighth behind the three top teams, so I am happy that my qualifying position is not worse than I had hoped," admitted Trulli.
"I could have improved my lap time and been higher up the grid as there was more potential in the car, but I did the best I could given the situation on the track today. The car feels good, but I think it will be a tough race."
---