Saturday June 23rd, 2001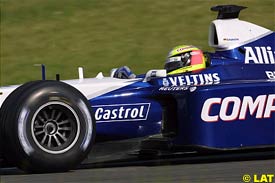 Williams' Ralf Schumacher is hoping for higher temperatures on Sunday in order to beat brother Michael at Sunday's European Grand Prix.
The younger Schumacher, winner in Canada two weeks ago, had to settle for second place in today's qualifying session, finishing nearly three tenths of a second behind his brother. Now Ralf will be praying for higher temperatures that will help his Michelin tyres perform better than the Ferrari's Bridgestones.
"Over the entire weekend the car was better than expected, even though the race is not going to be easy for us," said Ralf. "We hope for higher temperatures which, as everyone knows, helps our tyres.
"We can be very satisfied having both cars in the top three. It is nice being on the front row again with Michael, but I am working on swapping places with him and hope soon to get my first pole."
Teammate Juan Pablo Montoya completed a brilliant qualifying for the Williams team as he placed himself right behind Ralf in third place. The Colombian driver was happy with his day's work, but having finished only one race so far this season, Montoya admitted finishing in his main priority.
"We had a pretty good qualifying today, here we had no failures and things are going really well," said Montoya. "We did a couple of changes at the end of the session to the car and they didnít really pay off, but we had to try.
"The car is working well although I had a bit too much oversteer to really push it. However, we had a fairly good day in total today and now I will try to get to the end tomorrow."
---