Saturday June 23rd, 2001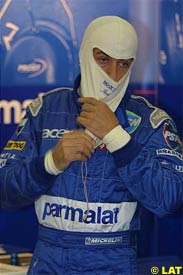 Veteran Frenchman Jean Alesi has just been given a new lease of life and sees no reason to stop just yet. Asked about speculation that he might give up at the end of the year, the oldest active driver in Formula One at 37 said on Saturday he would love to carry on.
"At the moment I'm having fun and I'm not thinking about retirement," said the driver, who has provided a welcome boost to both himself and the team run by compatriot and friend Alain Prost by finishing in the points in the last two races.
"You have to know when to stop but as long as I'm enjoying myself and giving satisfaction to the people who have placed their trust in me by doing my job well I'll carry on," he told Reuters.
One point in Monaco and two in Montreal, where he had claimed his one and only victory at the 91st attempt in 1995, have brought back a smile on Alesi's face. Last season - his first with Prost - was a nightmare with the car struggling to finish races and the team battling financial difficulties which have yet to be resolved.
"It was awful," said Alesi, who failed to score a single point. "Never did I really think about giving up but yes, I was discouraged."
Many thought they saw the signs when Alesi threw his helmet and gloves to the crowd last year in Montreal but he later explained the gesture was to thank his favourite crowd, not to signal his intention to retire. The blue Prost car has improved dramatically, enabling Alesi to be the only driver to have finished all the races this year, and the priceless points picked by the Frenchman have brightened up the team's future.
Supplied oxygen
"It gave everybody some oxygen," Alesi said. "We badly needed those points to give a sign to our sponsors and partners."
His 14th place in qualifying for Sunday's European Grand Prix - his 193rd -- has failed to damp his newly-recaptured enthusiasm.
"The car is reliable and we can still improve in some areas, notably aerodynamics," he said. "The goal is to score more points and I really believe we can do it." Alesi said he had taken risks by joining Prost and was delighted it was paying off at last.
"It was a gamble because I had a good situation at Sauber," he said. "I accepted because of Alain and because it was an honour to drive for a team representing France."
He had seen it all before in a career spanning over 12 years, having tasted victory - if only once - and having driven for a top team with a four-year spell at Ferrari. Few men in the sport are as popular and respected as the Frenchman, who made his Formula One debut in 1989 and made the motor racing world take notice the following year by finishing second in Monaco under driving rain in a modest Tyrrell.
"I don't know what tomorrow will bring because I don't know what the exact financial situation of the team is," he said. "But I trust Alain. I admire him even more since he has become team chief. The energy he displays for the team is just wonderful.
"I really hope he can secure the team's future. If he can, I'd like to stay."
---