Saturday June 23rd, 2001
By Alan Baldwin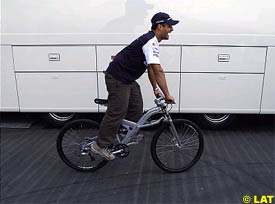 Colombian Juan Pablo Montoya needs to be allowed time to learn the ropes in his first season in Formula One, Williams teammate Ralf Schumacher said on Saturday.
"I think Juan is a very competitive and good teammate and obviously he is getting a lot of pressure from the outside at the moment," the German told reporters after he qualified second for Sunday's European Grand Prix.
"He made a few mistakes which are normal to someone who is quite new to Formula One," said Ralf, who has won twice in his three finishes this season including victory in Montreal two weeks ago. Montoya has completed just one race in eight.
"It would be more fair to give him some more time to develop," Ralf added.
Despite his run of retirements, Montoya has led two Grands Prix and took a second place in Spain. He qualified on the front row in Austria and was third fastest on Saturday. The Colombian was hailed as a future champion and a driver capable of testing Michael Schumacher to the full in the early part of the season but some of the adulation has died down since he crashed out of the last two races.
Some pundits also suggested that Montoya would show up Ralf Schumacher at Williams but the 25-year old German has comfortably outqualified the Colombian in all but one race so far. The Colombian appeared confident enough on Saturday however.
"The car is working well, we've had a pretty good day today. I'll try to get to the end tomorrow for a change," Montoya said.
Calm, Collected
"My priority is to get to the end of the race and get some points," he said. "I definitely need to look for a steady race. Today really showed that, if I can get the practice running on Friday and Saturday, I can be competitive. In Canada I was quite competitive on Friday and we didn't do any running on Saturday and that was it. You're out of business."
Last year McLaren's Mika Hakkinen also qualified third on the grid and took the lead at the start but Montoya discounted that happening on Sunday due to the new electronic 'launch control' making it harder to gain an advantage. Williams technical director Patrick Head said Montoya, who had a much-publicised clash with Canadian Jacques Villeneuve before the last race in Canada that earned him a reprimand from team bosses, had gone calmly about his business in Germany.
"Very good, very professional, he's been working very well with his engineer," said Head of Montoya's attitude. "He hasn't been very pleased with the way he's finished the last two races and he's very keen to get a result.
"I'm sure he'd have liked to have been on the front row but he's qualified in a front position and, from what I've heard on the (team) radio in the way he's gone about it, there's no desperation. He seems to be very calm."
BMW motorsport director and former Formula One driver Gerhard Berger said no one doubted Montoya's talent.
"He learns the circuits very quickly and he's immediately on the right level. But no question, he is in a learning process and you always forget that he is just six or seven races into it. Even for the really good ones, it takes one or two years to really settle down," added the Austrian.
---