Sunday June 24th, 2001
By Alan Baldwin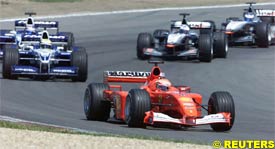 McLaren have been unsettled this season by their successful battle to keep top designer Adrian Newey but they have not lost their way, team boss Ron Dennis said on Sunday.
He insisted that the lack of an announcement to confirm the Formula One team's 2002 driver line-up was not a destabilising factor since McLaren had options on both Mika Hakkinen and David Coulthard. The Finn and Scot have already been together for a Formula One record partnership of six seasons.
"We have options on both the drivers for next year and therefore we feel under no pressure to decide at the moment what to do," he said at the European Grand Prix. "Because of the options we hold and because of the fact that the drivers very much know that we prefer continuity, it really isn't an issue within the team. This is not in any shape or form a destabilising parameter."
McLaren have struggled in qualifying for much of the season and that continued on Saturday ahead of the ninth race at the Nuerburgring on Sunday, with Coulthard starting fifth and Hakkinen sixth.
Dennis recognised McLaren, who have won two races and taken two poles with Coulthard this year, had been inconsistent. "We don't feel that we are the team that we've been in the past and the team that we are going to be in the future," he said. "We're just a little bit off-balance."
"A lot of the problems we've experienced in the last three races are because we are trying too hard. We just have to calm things down and get a couple of results and then it will swing.
"We have tremendous depth, we know where we are going," added Dennis. "Obviously the situation with Adrian and with other things... as we wrestle with our competitiveness just throws you off balance."
Newey, rated the top designer in Formula One with an involvement in cars that have won a total of 12 WC titles for his former employers Williams as well as McLaren, agreed to join Jaguar last month before changing his mind and staying put. Jaguar said he had signed a binding contract and began legal action but the tug of war was settled 12 days ago.
"To really have consistent results you've got to have complete harmony so when something comes along that is a distraction it does have an impact on the performance of the team," said Dennis. "But we've been there so many times before, it's not going to be an issue...it would be a ridiculous thing for people to say McLaren are losing their direction."
Asked about Newey's future at McLaren, Dennis expected his technical director to be involved with the team for many years. "Adrian will be designing many other Grand Prix cars for the team, he's totally committed to that process," he said.
But he denied reports suggesting Newey is set to leave Formula One to design yachts, as suggested by some media reports. "First thing is a series of racing cars and then, as the circumstances unfold, only then we may look at other things," he said.
---