Sunday June 24th, 2001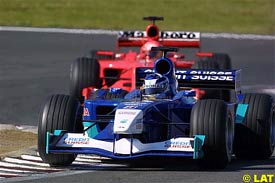 Finn Kimi Raikkonen was unable to continue with Sauber's impressive form so far this season after finishing in a low tenth place at Sunday's European Grand Prix at the Nurburgring track.
The 21-year old, who had qualified in ninth place on his first visit to the German circuit, could not get the best out of his car due to problems with his tyres, but he did a brilliant job in the final laps of the race to keep Prost's Jean Alesi at bay. The Frenchman finally made a mistake and spun off the race.
"The car felt good in the first part of the race and my second set of tyres was better than the first, but I still had some blisters so I couldn't drive as quickly as I wanted to," said Raikkonen.
"Towards the end I wasn't too worried about the pressure from Alesi, so long as I protected the inside line to the corners. In the end he braked too late and spun off, so I was okay."
Teammate Nick Heidfeld also suffered problems with his Bridgestone tyres after a good start where he overtook Raikkonen for ninth place. However, his team decided to withdraw him from the race for safety reasons following a clash with Alesi's Prost.
"I was following (Rubens) Barrichello thinking, 'This is looking good.'," said Heidfeld. "But later the tyres began to blister and the problem was worse with my second set, when the car was really oversteering. When I was fighting with Jean Alesi we touched, and as the car began handling oddly I came in and we discovered that the incident had damaged a driveshaft, so I had to retire."
---