Sunday June 24th, 2001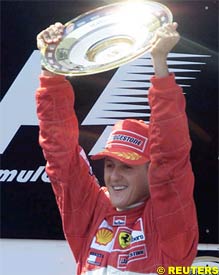 Michael Schumacher was delighted after scoring his fifth win of the season out of nine Grands Prix, finally ending the pole position jinx at the new Nurburgring circuit.
Since the new circuit reopened in 1984 on the fringes of the awesome old Nordschleife track and returned to the calendar permanently since 1995, no driver had won from pole until Schumacher benefited from a stop-go penalty to his brother Ralf to take an easy victory.
Having extended his lead to 24 points over his main championship rival David Coulthard, the German driver was very happy after the race.
"I am certainly delighted," Schumacher said afterwards. "Nothing can happen better than winning your home Grand Prix. We have had a superb weekend - we got pole position, we got the win and we had a nice race again together, Ralf and myself, until the stop-and-go.
"It was quite an entertaining weekend because, in the end Juan Pablo was coming and pushing hard so, in this respect, we are very delighted to have finished where are."
Schumacher, however, felt that his brother's stop-go penalty on the 40th lap had been a harsh one. Ralf received the penalty for crossing the white line on the pit exit by a matter of inches, something that spoiled his chances on winning.
"It was obviously a hard decision for Ralf to get this stop-and-go penalty for, as I heard, just half a car passing the white line," Schumacher said. "It's quite a strong decision which destroyed his race."
---