Sunday June 24th, 2001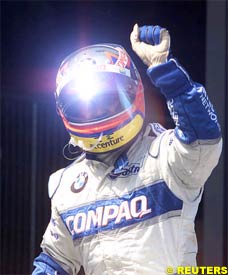 Colombian Juan Pablo Montoya was relieved after finishing for the second time in nine races in his debut season with the Williams team.
Montoya, who had only finished at the Spanish Grand Prix before Sunday, completed a good race at the Nurburgring circuit to repeat his second place in Spain.
The Colombian was left to battle Ferrari driver Michael Schumacher after teammate Ralf received a stop-go penalty but Montoya, third on the grid and twice smashing the lap record in the early stages of the race, could not sustain a serious challenge to the Ferrari. However, he was glad to make it to the finish again.
"It is a relief to finish second and to finish again," said Montoya. "We have given away quite a few points this year. We had problems at the start of the year, but everything is coming together now. We've been trying really hard with the team and the car is very competitive.
"Today, things started going my way. The first few laps of the race, I took it really steady. I knew that Michael and Ralf were going to go and I just wanted a couple of laps to get into it and just build up the pace slowly. The car was really quick today."
---