Sunday June 24th, 2001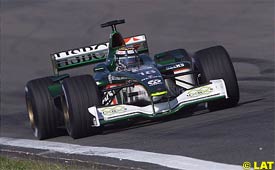 Jaguar need to improve their qualifying pace in order to be able to fight for the points, according to the British team's drivers.
Despite getting the best out of his Jaguar, Ulsterman Eddie Irvine was unable to give the Milton Keynes outfit their third consecutive point-scoring finish after ending in seventh place at the European Grand Prix on Sunday.
Irvine, who at the end of the race was only two seconds behind McLaren's Mika Hakkinen, admitted Jaguar needed to improve their qualifying pace in order to fight for the points.
"I couldn't have done any better today and it just shows how important it is for us to qualify better," said Irvine. "The car felt great but we need to fully exploit the qualifying hour in an effort to grab the points that are out there for the taking.
"I don't see what else we could have done different for the race itself. The pit-stop strategy was excellent and the Michelin tyres worked perfectly. I spent quite a while behind Frentzen and I couldn't work out at first whether he was carrying a lot of fuel or whether our tyres were giving me an advantage."
Irvine's Spanish teammate Pedro de la Rosa completed a solid but fruitless performance for Jaguar by finishing right behind Irvine. De la Rosa, who finished sixth in Canada two weeks ago, agreed with his teammate and vowed to improve their qualifying efforts in future races.
"Clearly we need to do a better job for qualifying that would allow us to translate the car's race capability into points," said de la Rosa. "The car, however, performed well during the race and maybe a bit of luck would have allowed both Eddie and I to score points today.
"You make your own luck in this business and it's now up to us to develop this package into a real contender."
---