Sunday June 24th, 2001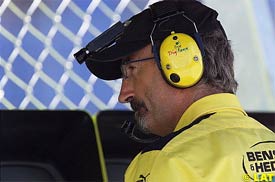 Team boss Eddie Jordan said on Sunday that frustration is beginning to creep into his camp after a double retirement ended the races of Heinz-Harald Frentzen and Jarno Trulli.
Trulli suffered a clutch and gearbox problem which ended his race on lap 45 before traction control failure sent Frentzen spinning out of the race and Jordan admitted that the problems are becoming frustrating.
"It is clear that we are not realising our potential," Jordan admitted. "The problems seem to be different at each race which is hugely frustrating, and means we have to have ongoing analysis to establish the causes for each retirement.
"In the meantime, with the top three teams opening up their lead, the battle for fourth place remains open and we will keep fighting."
Italian Trulli had challenged McLaren's Mika Hakkinen for sixth place before his retirement and he was left to curse the bad luck that has hampered his progress this year.
"I made a very good start and moved up to sixth by the end of the first lap," Trulli said. "The early part of the race was going very well and I was trying hard to overtake Hakkinen. I was able to keep pace very well with the leading pack and although I did experience a problem downshifting, I was still pulling away from the group behind me.
"(But) it's a great shame as I was looking very strong in the race with the chance to score some points. We have been very unlucky this year and lost a lot of points as a result."
Frentzen recovered from a slow start to run in 10th for much of the race, but a problem with his rear tyres and then the failure of his traction control aid sent him spinning out of the race at the Bit Kurve.
"I didn't have a good start and lost three places before the first corner, but moved back up to run in tenth for a good part of the race," Frentzen said. "After the pit stop, with new tyres I was able to do quite a few quick laps but I then had a problem with my rear tyres and couldn't maintain my good lap times.
"As I accelerated out of the hairpin, the traction control suddenly failed which meant I had excessive wheel spin causing me to spin off the track."
---