Sunday June 24th, 2001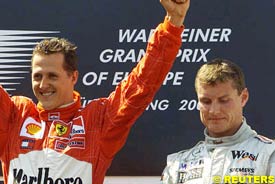 David Coulthard refused to give up on his championship hopes despite losing out to Ferrari rival Michael Schumacher for the third consecutive race.
Coulthard finished in a distant third place at Sunday's European Grand Prix at the Nurburgring circuit and saw how Schumacher edged 24 points clear in the championship after nine rounds.
However, the Scot driver, who has not finished ahead of Schumacher since the Austrian Grand Prix, vowed to continue working in order to get back in the title race.
"Today's result doesn't mean the championship is over as there are lots of races to go, so I'm not too downbeat," said Coulthard. "We are not going to sit back and feel sorry for ourselves but work hard before Magny Cours.
"In the circumstances, we couldn't have expected more from today's race and have to be happy with third. I made a good start and managed to get past Barrichello. My rear tyres were used very quickly and it was not until just before my pit stop when the fuel load became lighter, I was able to push."
Teammate Mika Hakkinen endured a bitterly disappointing race at the Nurburgring, the Finn finish more than a minute behind winner Schumacher in the second McLaren.
The two-time world champion finished in sixth place after an error in the initial part of the race damaged a tyre of his car and admitted he was unhappy with the result.
"We made a good start and could overtake Barrichello before the first corner to claim fifth," said Hakkinen. "However on lap 15, I flatspotted my right front tyre before the chicane and experienced strong vibrations until my pit stop.
"Once I had a new set of tyres I could go quickly again but it was too late. Overall I'm disappointed with today's result."
---