Sunday June 24th, 2001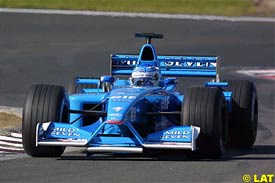 After yet another frustrating Grand Prix at the Nurburgring circuit the Benetton team are looking forward to the next race in France, where the Renault-owned outfit will introduce changes which they expect will move then further up the grid.
After a promising qualifying effort from Giancarlo Fisichella on Saturday, Benetton struggled again during the today's European Grand Prix with the Italian finishing in a dismal eleventh place. Meanwhile, teammate Jenson Button was down in thirteenth two laps down.
Now the team are hoping an improved engine to be introduced at the French Grand Prix next week will allow them to gain places.
"This was a very disappointing race for us after a qualifying session that offered a hint of promise," said engineering director Pat Symonds. "I don't feel that we really used our tyres well today and consequently Giancarlo and Jenson were faced with a car that was difficult to drive.
"We are obviously looking forward to the improvements that are due to be introduced at the next race, but before then we need to analyse what happened this weekend, which has been a slightly unusual one for the team."
---