Sunday June 24th, 2001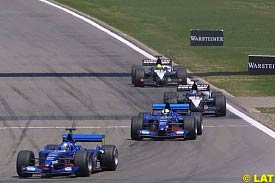 Jean Alesi's perfect record of finishes in the 2001 season came to an end on Sunday as he spun off three laps from the end of the European Grand Prix.
Alesi, who had finished in the points in the last two races, had to fight his way up the field after a disastrous start, and the veteran Frenchman endured an exciting duel for tenth place with Sauber's Kimi Raikkonen during the final stages of the event.
Unfortunately for the Prost driver, he made a mistake and failed to make it to the finish for the first time in nine races.
"As we thought, we were really well prepared for the race," said Alesi. "Unfortunately, our start was a disaster and on the first lap I ended in 19th position.
"I had a great fight with Raikkonen. I feel sorry that I lost the car three laps before the end trying to overtake him and that I broke my record: it is the first time this season I have not seen the chequered flag."
---