Sunday June 24th, 2001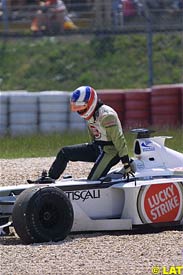 Olivier Panis had nothing to celebrate at his 100th Grand Prix on Sunday after spinning off the track 24 laps into the race.
The veteran Frenchman, who had qualified in thirteenth place on Saturday, was unable to shine at the ninth round of the 2001 season after losing several places on the first lap. Then, when he was charging back to the front, he made a driving error and spun off into the gravel. The BAR driver was clearly unhappy afterwards.
"I'm disappointed for the team and for myself," said Panis. "I made a very good start and overtook Jacques but under braking someone overtook me and everything got a bit tight and obviously I didn't want to risk crashing.
"That was the race gone really because I lost three places. But I knew I had a good strategy and I focused on pushing and being able to fight later in the race. We had some problems and we need to look at what they were exactly."
Teammate Jacques Villeneuve tried his best during the 67-lap long race but was also unable to give a positive result to the Brackley-based team after finishing in a poor ninth place behind the two Jaguars.
"The car was good during the race - the balance was good and the car was very drivable; I could do pretty much what I wanted to with it," said Villeneuve. "What hurt us was the fact that we were unable to get the best out of the tyres.
"The best we could have done was to be behind the Williams, McLarens and Ferraris - so 7th - but 9th was all that was possible. I drove hard and tried not to make any mistakes but we just couldn't have gone any quicker today."
---