Sunday June 24th, 2001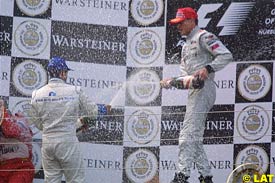 McLaren's David Coulthard credited a mistake by Michael Schumacher's younger brother Ralf on Sunday for handing him an extra point in his fight for the Formula One title.
The Scot told a news conference that his third place in the European Grand Prix, behind winner Michael Schumacher and Colombian Juan Pablo Montoya in a Williams, was the best result he could have hoped for.
"I think under normal race pace circumstances we would have been fourth if Ralf hadn't have got his penalty, so to gain an extra place through that is obviously fortunate for me."
Williams driver Ralf had qualified on the front row and challenged Michael for the lead before incurring a 10-second stop-go penalty for crossing the dividing line between pitlane exit and track after his first pitstop. The penalty dropped him from second to fourth, allowing Coulthard, who had started on the third row of the grid, to move up.
Coulthard, still second overall but now 24 points behind Ferrari's Schumacher, said McLaren had not been as competitive as they would have liked in their last two races.
"We weren't very quick here in qualifying and clearly in the race we weren't a match for them (Ferrari and Williams) either, so it was really recovery position this weekend and to try and understand how we can improve for Magny Cours," he said.
Coulthard dealt easily with questions about his championship chances with eight races remaining and Schumacher having finished first or second in every race bar one.
"The championship isn't decided until it's decided," he said. "I'll keep doing the best that I can and sometimes you can be driving well but not quite have the machinery and other times you have the machinery and don't drive so well.
"I've got to make sure I get both elements together at the right time," added Coulthard, who has won two races this season and also won last year's French race at Magny Cours.
---