Sunday June 24th, 2001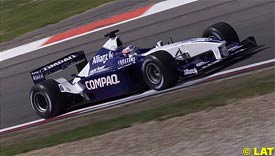 Juan Pablo Montoya insisted his Williams team have the better of McLaren after the Colombian finished as runner-up to Michael Schumacher at the Nurburgring.
"I think we're a bit ahead of McLaren at the moment, it's a bit surprising to be honest," said Montoya. "With the Ferraris very similar I think, we're slightly quicker than them but we've still got to do a little bit more work.
"We're getting consistent up at the front so it's definitely getting better."
While Montoya looked to the future, teammate Ralf Schumacher counted the cost of driving on a white line as he exited the pitlane, an error that forced him to undergo a 10-second stop-go penalty.
"I am extremely disappointed about the outcome of the race as I had a chance to win in front of my home crowd," Schumacher said. "I was looking in my mirrors when I left the pits and obviously concentrated more on the traffic behind me than the line. I have to accept the penalty."
---