Sunday June 24th, 2001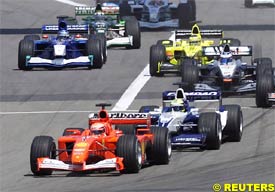 European Grand Prix winner Michael Schumacher has defended his move to block his brother Ralf at the start of the race on Sunday.
The Ferrari driver, who made a slower start than his Williams rival Ralf, moved deliberately to the right of the track in order to stop his younger brother from taking the lead of the race.
Michael eventually won the event - the 140th for his Ferrari team - while Ralf finished fourth following a stop-go penalty. After the race, the current world champion defended his move, saying it was within the rules.
"I saw Ralf on the inside and obviously I was not sure of the strategy they were on so I had to make sure I would be first in the first corner, otherwise I would be in trouble," Schumacher said. "I used the maximum that the rules allow you, to move over once, and tighten up the line. I think that's the way you have to work unfortunately.
"We drive as close to the edge as you have to. I would do this to anyone and Ralf doesn't give me presents. That's the way it is, but we leave room to survive for the other one."
McLaren driver David Coulthard agreed that Schumacher's move was indeed within the FIA's sporting regulations, which allow a driver to move to one side to defend his position. However, the Scot didn't share the governing body's view to allow such moves.
"We looked for clarification on this last year and the powers that be gave their clarification that you are allowed to make one move," Coulthard said. "But I still maintain that if you do something that makes someone else take avoiding action or brake then that can't be right, but it doesn't seem to matter what I think."
Niki Lauda, on the other hand, defended Schumacher. Talking to Atlas F1 the Austrian said: "There was nothing wrong with what Michael did. He was always completely in front. Anyone would have done it, I would have done it and even Ralf Schumacher would have done it if the situation was reversed."
---