Tuesday June 26th, 2001
By Alan Baldwin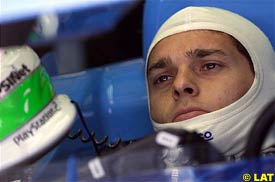 Giancarlo Fisichella has suffered one false dawn at Benetton already but now he believes the Renault-owned Formula One team can really see a brighter future. So much so that despite his team fighting, and occasionally failing, to outqualify the tail-end Minardis this season, the quiet Italian can talk positively of future victories.
"I am confident for next year. If I don't win a race next year I'll be very disappointed," he said in an interview with Reuters ahead of Sunday's French Grand Prix.
Renault, who rename the team next season when they race in their own corporate identity, have promised big improvements to the radical new engine blamed for most of Benetton's problems. Since the start of the season, the word has been to wait for Magny-Cours for performance to pick up. Now the big day has almost arrived.
"For the next race it's going to be a big step, a big jump in power, so I am very confident," Fisichella said at last weekend's European Grand Prix at the Nurburgring. "A good step, still not enough, but a good step."
Fisichella, who has yet to win a race in 83 starts, does not need reminding that he has been down this path before. A year ago, he arrived at the French Grand Prix sounding confident after taking three podium finishes already in the first half of that season.
French car giant Renault had just taken over the team, promising much with their proven engine expertise, and the future was looking good.
"I would like to stay because the team is getting better," Fisichella told reporters at the time. "Next year we will have a much better engine. It will be easier."
Reality Check
It did not take long for reality to sink in.
"Before the start of the season I was very optimistic, very excited because I thought it would be much easier and more competitive," said the Roman. "But after the first few runs with the car, especially the engine, I was very disappointed."
Benetton's innovative but experimental engine has so far been one of the slowest on the grid and the nine races before Sunday's have been anything but easy. Yet Fisichella, despite a note of resignation in his voice, is hopeful that the worst is now history.
"We are pushing, doing our best. I believe in the Renault people because they are back, back to win. If it is not now, then it will be maybe next year," he said.
Benetton, world beaters in 1995, have so far scored just one lucky point in Brazil when Fisichella cashed in on others' retirements to finish sixth after starting 18th. The Italian's qualifying record in nine races reads like a Formula One horror story - 17th, 16th, 18th, 19th, 19th, 19th, 10th, 18th and last Saturday 15th.
Add the simple fact that Fisichella has outqualified 21-year old British teammate Jenson Button eight times in nine and the full extent of the team's problem is clear. The engine cannot take all the blame either.
"Even the car is not fantastic at the moment, we've got lots of problems on the high-speed corners," said Fisichella. "It's not good for me but that's life. I am a professional driver and I have to do the best with what I have."
Nice Package
If all goes to plan, the start of something better for Benetton should become apparent on Saturday afternoon when official qualifying gets under way.
"Certainly at Magny-Cours we have got some developments on the engine that have come together in quite a nice little package," said the team's director of engineering Pat Symonds in Germany last week. "There are some aerodynamic developments coming along as there are at every race, but we are hoping for a reasonable improvement in the engine for the next race."
Fisichella, and Button too, both admitted they had to take what the team said on trust as neither driver would get a chance to test the developments before qualifying.
"We'll do a normal Friday but Saturday will be more exciting," said the Italian.
Button, really needing to get closer to his far more experienced teammate's pace after an impressive first season with Williams, was also hopeful of a morale boost.
"From the rear there will be an improvement big time," he said. "It will be interesting to see what happens, it really will...we still don't know what to expect. But I'm pretty confident it is going to be good. Reliability should not be a problem. I think this will be the biggest jump for now, this is the main one.
"It's looking up for us."
---