Thursday June 28th, 2001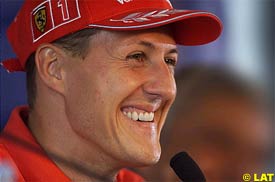 Michael Schumacher has laughed off suggestions that he had a row with his younger brother Ralf after last weekend's European Grand Prix.
Speaking ahead of the French Grand Prix this weekend, Ferrari driver Schumacher said there was no problem with his Williams driving brother, who was reported to have been upset at the elder sibling's move at the start of the European race.
But Michael Schumacher on Thursday said: "We don't have a particular problem with this. We talk about things and perhaps they are pretty clear.
"We race and we race for different companies and we have to maximise the opportunities and we have to use the rules in whatever way they allow us to until a certain point. He's quite happy with that."
Michael Schumacher moved immediately to the right and in front of Ralf at the start of last weekend's race and effectively blocked any way through going into the first bend, but the move was considered legal.
Published at 15:51:58 GMT
---