Thursday June 28th, 2001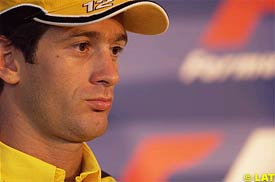 Jordan's Jarno Trulli has put his impressive performances in races down to an ever-increasing desperation to get to the end of the race.
It is now five races since Trulli scored a world championship point and the frustration of failure could get many a driver down. But for Trulli, it just spurs him on to strive for better things, and the Italian knows that hard work is the only way he and the team can turn things around.
"You have to keep working to try to develop and push more and more and try to get reliability, which is what we need at the moment," said Trulli. "In my five years in Formula One I never had a really competitive and reliable car, so I always try to do my best in ever race.
"I just forget what happened before and every weekend hope that it's going to be alright. That's why I look so strong at every race - because I have had bad luck before. It's always disappointing when you can't finish races, especially when you are in the points. But that is racing."
Trulli scored a point in the French Grand Prix last year and teammate Heinz-Harald Frentzen won the race the year before that, so the Jordan squad will be looking for more of the same in this weekend's French Grand Prix.
Published at 16:19:50 GMT
---