Thursday June 28th, 2001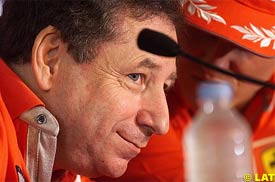 Ferrari's sporting director Jean Todt will leave the Italian team after his current contract expires at the end of the 2004 season, the Frenchman said on Thursday.
Todt joined Ferrari back in 1993 and announced earlier this year he had extended his contract with the current world champions until 2004. But the Frenchman, who at this weekend's French Grand Prix celebrates his eighth anniversary at Ferrari, said he will leave his current post when his contract expires.
"The good thing in Formula One is that everyone is thinking ahead," said Todt on Thursday. "And definitely in 2004, it is decided in my head somebody will take over my position. That is one of the reasons we are strong because we are not worried about someone taking over positions.
"And I hope I, together with the team, will be able to identify the best person for Ferrari to succeed after 2004."
Published at 16:37:23 GMT
---