Friday June 29th, 2001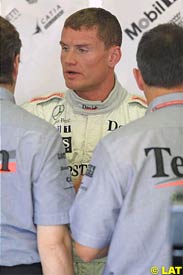 David Coulthard once again set his race weekend in swing with the satisfaction of topping the times in Friday's free practice session for the French Grand Prix. Scot Coulthard, who was the only man to make it into the one minute 14s, clocked a time which was almost one second faster than last year's pole position.
Eddie Irvine was a surprise second as the Jaguar team continued their rise to form, while Jacques Villeneuve put the smile on the faces of British American Racing team members by clocking third fastest. Mika Hakkinen claimed fourth as McLaren once again put in their impressive Friday form, and the Williams pair were challenging at the sharp end with Ralf Schumacher and Juan Pablo Montoya fifth and sixth. Championship leader Michael Schumacher was seventh fastest with the Ferrari.
Jos Verstappen's session was over almost before it began when the Asiatech engine in his Arrows A22 gave up as he headed down the pit straight. Olivier Panis' second practice was also over much too soon after he spun off in his BAR and was unable to recover.
Rubens Barrichello and Juan Pablo Montoya both had brief off-track excursions, then, half way through the session, Kimi Raikkonen shot off the track and avoided a big accident as he turned his Sauber away from the tyre wall. The Benetton team's expected rise did not really materialise, however, as a new engine failed to drag Jenson Button or Giancarlo Fisichella up the field.
Pos  Driver        Team                    Times                 
 1.  Coulthard     Mclaren Mercedes   (B)  1:14.935  204.225 km/h
 2.  Irvine        Jaguar Cosworth    (M)  1:15.133    +    0.198
 3.  Villeneuve    BAR Honda          (B)  1:15.224    +    0.289
 4.  Hakkinen      Mclaren Mercedes   (B)  1:15.372    +    0.437
 5.  R.Schumacher  Williams BMW       (M)  1:15.537    +    0.602
 6.  Montoya       Williams BMW       (M)  1:15.582    +    0.647
 7.  M.Schumacher  Ferrari            (B)  1:15.810    +    0.875
 8.  de la Rosa    Jaguar Cosworth    (M)  1:16.140    +    1.205
 9.  Trulli        Jordan Honda       (B)  1:16.187    +    1.252
10.  Barrichello   Ferrari            (B)  1:16.325    +    1.390
11.  Panis         BAR Honda          (B)  1:16.364    +    1.429
12.  Burti         Prost Acer         (M)  1:16.455    +    1.520
13.  Frentzen      Jordan Honda       (B)  1:16.868    +    1.933
14.  Raikkonen     Sauber Petronas    (B)  1:16.906    +    1.971
15.  Heidfeld      Sauber Petronas    (B)  1:17.011    +    2.076
16.  Alesi         Prost Acer         (M)  1:17.088    +    2.153
17.  Button        Benetton Renault   (M)  1:17.172    +    2.237
18.  Verstappen    Arrows Asiatech    (B)  1:17.285    +    2.350
19.  Bernoldi      Arrows Asiatech    (B)  1:17.527    +    2.592
20.  Fisichella    Benetton Renault   (M)  1:17.566    +    2.631
21.  Alonso        Minardi European   (M)  1:17.866    +    2.931
22.  Marques       Minardi European   (M)  1:18.372    +    3.437

All Timing Unofficial

Published at 12:02:28 GMT
---