Friday June 29th, 2001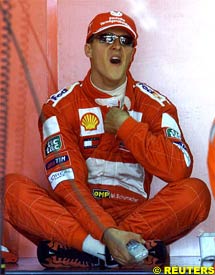 Championship leader Michael Schumacher took things easy on Friday practice for the French Grand Prix, ending the day in low seventh position almost a second behind McLaren rival David Coulthard, but the German was pleased with his progress.
Schumacher, winner of last Sunday's European Grand Prix and leader in the standings by 24 points over Coulthard, was as usual far from the top on Friday, but the Ferrari driver admitted he was confident for tomorrow's qualifying and happy with the new Bridgestone tyres.
"The situation in terms of today's times is quite similar to what we have seen in the Nurburgring last week," said Schumacher. "We have concentrated on our usual programme and we are pretty confident. We have tried the new Bridgestone tyres and we are very happy with them."
Teammate Rubens Barrichello was only tenth quickest today, the Brazilian driver concentrating on set-up work for Sunday's race. Barrichello was not completely happy with his F2001 car and vowed to keep on working on Saturday.
"It was very hot today, as is usually the case at Magny-Cours and it seems the conditions should remain more or less stable for the whole weekend," Barrichello said.
"We worked towards Sunday's race, concentrating especially on the tyres. Overall, I am quite happy with the handling of the car but we still have to do some more work on the set-up."
Published at 13:10:40 GMT
---