Friday June 29th, 2001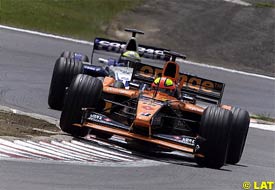 The Arrows team continued struggling with reliability problems on Friday as both the progress of Jos Verstappen and Enrique Bernoldi was hampered by mechanical failures to their Asiatech-powered A22s.
Dutchman Verstappen endured a good morning session, working on various aerodynamic parts, but his car stopped on track in the afternoon when his engine gave up and at the end of the day the veteran driver was only capable of setting a disappointing 18th fastest time in today's practice for the Grand Prix.
"I had an engine failure during my first run this afternoon which spoiled our data a bit but I was able to get some track time in Enrique's car at the end of the session - Thank you Enrique - so I could do my tyre compare," said Verstappen. "I did two lots of four laps and we were able to gather some very good data so I'm pretty happy."
Meanwhile, teammate Bernoldi was struck by gearbox problems in the morning and lost some time at the start of the afternoon session while it was fixed. The Brazilian finished the day right behind Verstappen in 19th position.
"This morning's session went pretty well for me," said Bernoldi. "We were concentrating mainly on set-up but had a good starting point from the data we have from testing here. I lost the start of the afternoon session as my gearbox was still being fixed, did some runs then gave my car to Jos."
Published at 13:38:15 GMT
---